After 165 days and 70 million miles orbiting the Earth, the three astronauts of Expedition #41 landed safely today in the icy tundra just north of Arkalyk, Kazakhstan.
Having completed a successful mission aboard the International Space Station (ISS), their tiny Soyuz capsule parachuted back to earth. After a tense period during which communications with the capsule were cut-off as it re-entered the earth's atmosphere, the capsule landed lopsided — but safely — on the ground.
One by one, the three astronauts were extracted from the capsule and placed side-by-side on chairs on the ground, facing a video camera streaming their images through NASA's website. After Russian flight commander Maxim Surayev and German flight engineer Alexander Gerst were removed from the capsule, the third member of the team emerged, the American flight engineer, Astronaut Reid Wiseman.
At this point in the live video stream, the NASA official that was narrating the events made a comment that caught my attention:
On this mission, Astronaut Reid Wiseman became a worldwide sensation through social media
I've been following Wiseman's entire five-month journey, thanks to the fact that he generously shared so much of what he was doing each day with the entire world through social media, all while he was circling us in orbit hundreds of miles above us, at the mind-numbing speed of 18,000 miles per hour.
On Twitter, @Astro_Reid tweeted hundreds of breathtaking photos and videos of Earth, the Moon, and the Milky Way. He shared photos and videos of daily life aboard the International Space Station. In just five months, his nearly 2,000 tweets attracted 365,000 followers and tens of thousands of retweets.
Wiseman's mission on the ISS, which included two walks in space, was inspiring. Conducting scientific experiments and operating complicated equipment in zero gravity, he nonetheless managed to find spare time and energy to create and share some of the most amazing visual content I've ever seen in the social mediasphere (the folks at Twitter must have agreed, since they featured a stunning photo he took of Earth on its landing page for the past several months).
Here are just a few of the many notable messages and images from his mission:
Life inside the International Space Station
Wiseman shared several photos and videos of daily life on the ISS. Just a few days ago, he uploaded a video to Youtube of himself floating through the ISS as it hurtled through space at 18,000 miles per hour (500 miles per hour faster than the stated "speed limit" on a sign posted above his head, if you watch the video closely).
Inspiring kids to study science
To inspire more kids to study science and engineering, Wiseman uploaded a series of video clips to Vine of fascinating experiments that he conducted in zero gravity. Just two days ago, he uploaded a clip showing the interaction between water bubbles, a visual experiment to illustrate the concept of surface tension.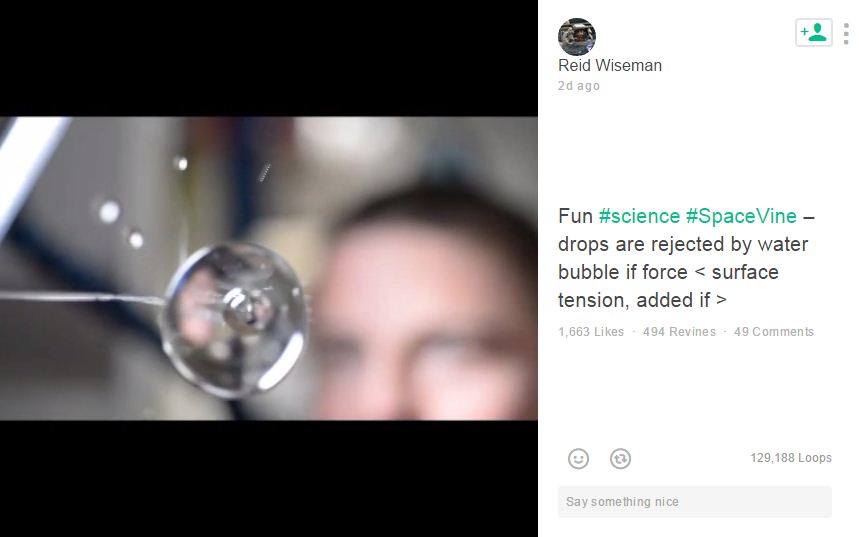 Raising awareness of childhood cancer
In a moving tribute, Wiseman carried 20 wristbands into space, one for each childhood cancer patient that he had met before leaving Earth. He wore one per day, and tweeted something about their struggles with the disease. In addition to raising awareness of cancer research and NASA's contributions to this area, he lifted spirits and gave hope to children, and their parents, around the world.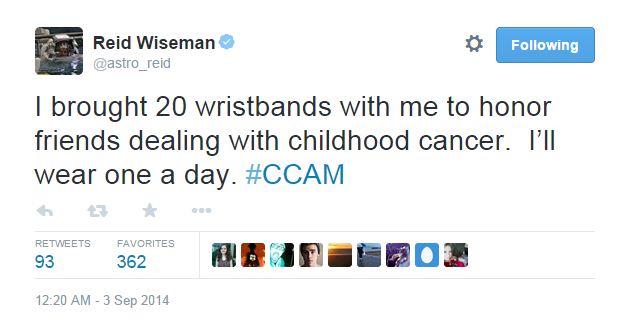 Earth art
Wiseman shared hundreds of beautiful photos and videos of Mother Earth in her silent, multicolored splendor. He called it, simply, "Earth art." He took stunning video of the lights of the Aurora Borealis. He captured magical portraits of the Milky Way. If you're looking for some inspiration, or if you need something to put your place on Earth quickly into perspective, just head over to his Twitter feed, @astro_reid.
Here's his photo of my hometown of South Florida, like I've never seen it before: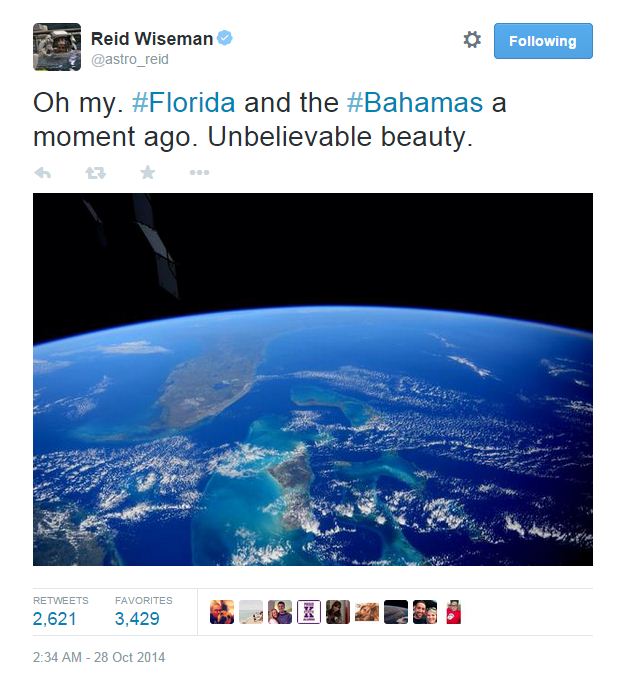 During a recent interview with CBS News, Wiseman was asked what he would miss. Among other things, he stated, "I'm going to miss the view. It's incredible to go look outside and see that Earth down there with the blue horizon. It's so beautiful, I will miss that absolutely."
We will too.
Thanks for the "ride", Astronaut Wiseman, and welcome home.
Image credits: Astronaut Reid Wiseman, NASA, International Space Station